Raster paper
This is a simple but very useful tool for C64 demo coding. It's a grid, 63 squares wide, that you print out on paper and draw instructions on. Along the top are helpful reminders about which clock cycles are involved in various effects, and which ones get stolen due to badlines and sprite fetches.
I have found this to be immensely helpful when developing effects that combine several VIC tricks.
Print a couple of copies and bring them with you on long trips. Don't forget pencil and eraser!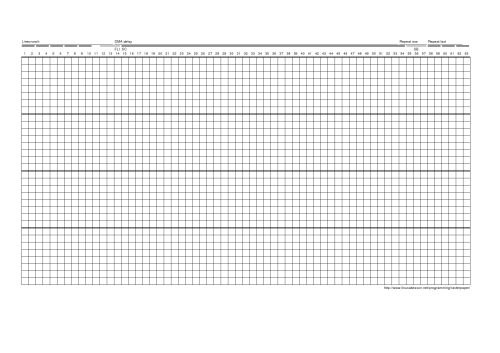 Posted Saturday 30-Mar-2013 19:23
Discuss this page
Jag tar inget ansvar för det som skrivs i forumet, förutom mina egna inlägg. Vänligen rapportera alla inlägg som bryter mot reglerna, så ska jag se vad jag kan göra. Som regelbrott räknas till exempel förolämpningar, förtal, spam och olagligt material. Mata inte trålarna.
Anonymous
Sun 31-Mar-2013 07:04
I'd love to see a scanned version of your use of this paper, Linus =)
Anonymous
Tue 2-Apr-2013 02:20
I didn't understand how it can help you? can you show me a little example
how it works for you?
Anonymous
Tue 2-Apr-2013 05:22
I'd love to see a scanned version of your use of this paper, Linus =)
this, please.
Anonymous
Wed 10-Sep-2014 22:07
This is extremely helpful in timing your code! Have saved hours of debugging. Thanks!
Anonymous
Wed 18-Mar-2020 01:29
I too would like to see examples. I look at this and once again, it seems to be a little short on details that those of us who are just learning would need.